Call for Participation Extended for "Digitization in the Real World" Book
METRO is pleased to announce a call to participate in a forthcoming book, tentatively titled Digitization in the Real World: Lessons Learned from Small to Medium-Sized Digitization Projects. This book is intended to document experiences with digitization projects that fall outside the spectrum of mass digitization initiatives that have tended to be more thoroughly discussed and documented. Digitization in the Real World will be co-edited by Professor Kwong Bor Ng (Queens College, CUNY) and Jason Kucsma (METRO).
Your experiences will provide useful case studies on what works and what does not for libraries, archives, museums and other cultural heritage organizations managing small- to medium-sized collections. Librarians, archivists, and students stand to benefit from your experiences — learning about the how the key elements of digitization projects play out in diverse institutional contexts. How was your project started? How was it implemented? What organizational and technological obstacles were encountered, and how were they overcome? Were they overcome? What new solutions did your project implement, and were those experiments successful or not? What are some of the lessons learned from your project? Is your project still growing? If not, why?
If you'd like to participate, please submit the following information via email (jkucsma@metro.org) on or before September 7, 2009. (Extended from August 31, 2009)
Name:
Email:
Institution:
Chapter Abstract: 500-1000 words describing the scope of your project and key elements you intend to address in your chapter.
Omeka Workshop Rescheduled for September 11, 2009
If you thought you missed your opportunity to learn how to work with the open source Collection Management System, Omeka, think again! The August workshop was rescheduled for September 11. Omeka is a free and open source collections based, web-based publishing platform for scholars, librarians, archivists, museum professionals, educators, and cultural enthusiasts. Its "five-minute setup" makes launching an online exhibition as easy as launching a blog.
Omeka is designed with non-IT specialists in mind, allowing users to focus on content and interpretation rather than programming. It brings Web 2.0 technologies and approaches to academic and cultural websites to foster user interaction and participation.
Jeremy Boggs, Omeka Project Manager, will lead a one-day workshop on September 11. This workshop will introduce Omeka, provide a brief background on developing the software, show examples of different types of websites created with Omeka and teach participants how to use Omeka to build a website for your institution.
Complete details and registration are available at http://bit.ly/28Bzbh.
Digital Collection Spotlight:
Chinese Paper Gods at the C.V. Starr East Asian Library,
Columbia University

Each month we take a moment to share digital collections created by METRO members. Recommend a collection for the spotlight by emailing jkucsma@metro.org.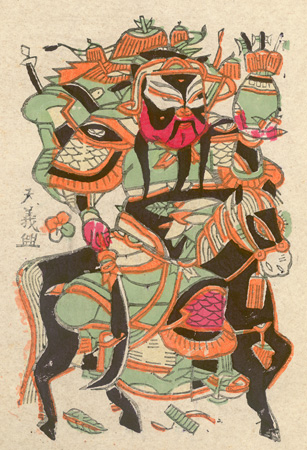 The images in this collection were assembled by Anne S. Goodrich (1895–2005) in 1931, when as a Christian missionary in Peking she became interested in local folk religious practices. She studied the paper gods in this collection for much of her life. After publishing her research conclusions in 1991, she donated these prints to the C. V. Starr East Asian Library, Columbia University.
The images are divided initially by usage: Those which were purchased to be burned immediately and serve as emissaries to heaven; and those which were purchased to be displayed for a year while offering protection to the family in a variety of ways, before being burned. The images are further divided by display locations and by the deities they represent.
View the collection here: http://bit.ly/CNlGD
View more digital collections at digitalMETRO, an online directory of digital collections created and maintained by METRO libraries.

Save the Date: METRO Annual Meeting
Join us on October 29, 2009 (2-5pm) at SUNY College of Optometry to commemorate METRO's 45th Anniversary at METRO's Annual Meeting. Our keynote speaker for the afternoon will be John Blyberg, Assistant Director for Innovation and User Experience at Darien Public Library in Connecticut. The event is open to all staff of METRO member libraries. Tours of the Harold Kohn Vision Science Library will take place before the meeting. Registration information will be coming soon, but make sure you save the date now.
Digitization and Emerging Tech Workshops and Events
September:
11 - Using Omeka to Build Digital Collections in Libraries and Archives. Details:http://bit.ly/28Bzbh
16 - Code4Lib NYC Special Interest Group Meeting (10am, METRO Training Ctr)

30 - "Social Networking Literacy for Librarians: Emerging Competencies for Emerging Technologies." (a co-sponsored presentation by the Library 2.0 SIG and the Science, Technology, and Medical Libraries SIG). Details: http://bit.ly/1aAm7c
Add these and other related events around NY and the world to your Google Calendar by subscribing to the METRO Calendar: http://bit.ly/metrocalendar.
Newsfeed 
The best of August's Tweets from the tweetMETRO feed
(http://twitter.com/tweetMETRO):